Johnny Walters interviews a homeless man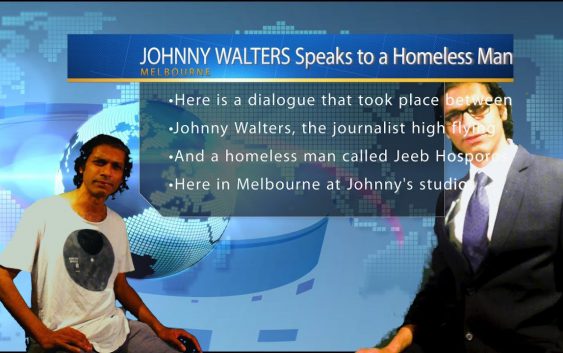 Here is a dialogue that took place between
Johnny Walters, the journalist highflying
And a homeless man called Jeeb Hosporos
Here in Melbourne at Johnny's studios
Johnny  Walters: Good afternoon, Mr. Jeeb Hosporos
Many thanks for accepting our invitation
I believe, in your busy life like everyone else's
It is still hard to share a moment with others?
Jeeb Hosporos: Good afternoon Johnny Walters, I thank you
For inviting me for a session with your fans and you
Even if my calendar isn't busy like yours
Relative to my day, it's still hard for sure
Johnny  Walters: Yes, Mr. Hosporos, don't we all live busy lives
Now, let me get to our main point straight out
Even though we know you claim to be homeless
Why do many say you are arrogant and pompous?
Jeeb Hosporos: True, Mr. Walters in your books I am homeless
But, in my world, I am a home-full, in essence
You see, even if I see the world as my own
Some may feel bad, and call me overblown
Johnny  Walters: That reminds me the happy beggar I once heard of
When I was a child, but isn't that a problem itself?
Especially, for you and folks like you, for the wealthy to ignore
For if not their giving, you starve to death that you know.
Jeeb Hosporos: You are truly mistaken there Mr. Walters
As I never ask for charity or donations
It's because they got too much, they give them away
Nothing 'am born with, nothing will I die with, that I dare say.
Johnny  Walters: Alright, Mr. Hosporos, let me ask you this bluntly
You live fine among the poor with nothing materialistically
What if people around you get richer eventually?
And look down on you, and pass by majestically
Jeeb Hosporos: It is all in your mind I bet on it Mr. Walters
Take your clothes and mine for instance
People see you as best dressed; they are shocked by my rags
Yet, for me I am the natural; though, yours was of a high price
Johnny  Walters: Wow, I seem to getting it, Jeeb, but, lastly to help you out
What if you meet now the world's richest man, Mr. Bill Gates, for instance?
To help your living, how would you ask for a donation?
As we know, you are on the other end of the equation
Jeeb Hosporos: 'How many times you are better than me, prove me, Mr. Gates.
In working or talking or other, is it two, three or thousand times?
Say, it is thousand, you can keep thousand times of wealth than me
But give away the rest of the billions that aren't yours; mind you, my advice comes for free',
Please follow and like us: