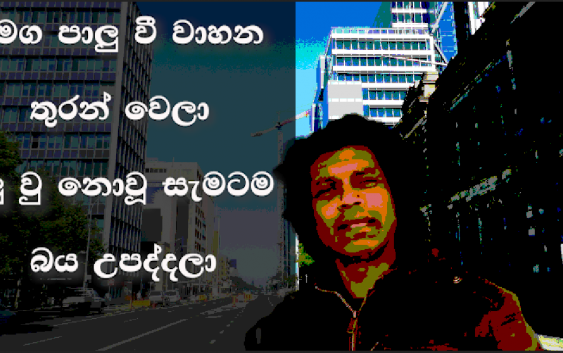 වසංගතයක අසුභ සහ සුභ සිතිවිලි The Worrying & Promising Thoughts of a Pandemic
(Reflections, on the current pandemic, grounded in the old Sinhala folk psyche and that poetry tradition.)
ඇස් දෙක දිහා නොබලනු හිත ලතවෙනවා
ලස්සන සිනහවන් කැපි කැපි විසි වේනවා
හිස් වුනු රාක්කෙට බඩු නැත පිරවෙනවා
වෙස් මුහුනෙන් නුඹ මම වැහිලා යනවා
මහ පුරයක්ව දිලි නගරය අඳුරු වෙලා
මහ මෙර ඉසුලු සේ කල වැඩ නිකං වෙලා
මහ මග පාලු වී වාහන තුරන් වෙලා
මහලු වු නොවූ සැමටම බය උපද්දලා
සරණයන් සොයා වැලපෙන සිත් තවන
වරණ කුමට විය යුතු කල සචේතන
මරණාන්තෙ තිර යැයි දැන සිටින කල
කරුණා කිම සිත සිතින්ම නොසනසන?
The Worrying & Promising Thoughts of a Pandemic
Do not look at the eyes,
They are lamenting
The pretty smiles are, all, shattered
And scattered
That rack is empty,
It is not getting filled
The mask is blanketing you
And me
Once gloriously lit,
The big city is sombre
All gloriously done work,
Previously,
Seem of no value, now
Forsaken by the vehicles,
The streets have gone desolate,
Inducing fear
Among elderly
And all
But,
Why seek other ways,
That treat weeping souls,
When what is needed is
To be awake?
When one knows that,
The death is, no matter, a thing, assured
Why not instead let,
The mind be consoled,
By the very mind?