Should I lie or should I not? (IN NO MAN'S LAND IN AMERICA)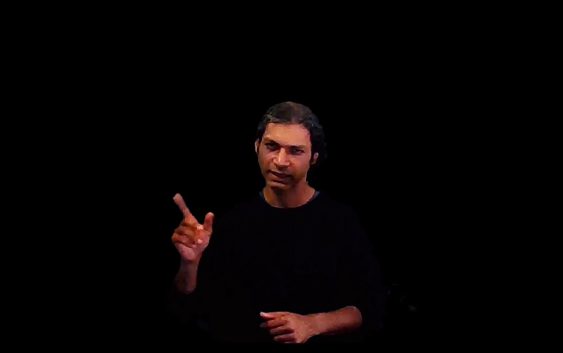 (Real experiences at the hands of American officials who 'arrested me' some years ago. The aim of this post, however, is not to build hatred against America, but to create awareness for the betterment of the society and to show how truth of each could vary. The video is part of a presentation made at one of the Darebin Multicultural events in Melbourne last year.)
What will you do, if you only have five minutes to decide,
To reveal the truth, to divulge who you are?
If you reveal the truth, you are detained permanently.
There will be 'no links to the world outside'.
Now,
Work out how many thoughts run on your mind in a second?
I say many.
Many glimpses, snap glances cross one's memory within an instant.
Let us say one per second, which means sixty for a minute.
Meaning an opportunity for 300 thoughts.
But, on one single theme, 'should I lie or should I not?'
The chief officer had courteously left me, so that I wisely use my five minutes.
Before he dragged me away from the open cell, the other officers plagued me for hours.
Earlier, when he led me here, ceremoniously walking through his department,
Turning back at one point, he said, 'I am the boss here, I make the decisions.'
The corridors were bursting with light, the glass walls were inflating the luminosity.
It wasn't a short walk, mind you this is the 'Los Angeles Airport'.
One minute gone.
How did it all happen?
Yesterday, a professional in demand, heading to America,
Today, an impostor, entering America illegally, to settle down for good.
He said,
'I know that passport is fake, just awaiting the final bits,'
Echoing similar sentiments of the officers before him.
Looking composedly at me, the chief said,
'I see you want to settle down here with your family,
You tell me the truth, I will help you out, personally.'
He held high my daughter's small photo,
That had thus far stayed in my wallet,
'If no truth, you won't see them again,
No one outside the detention.'
So, with truth, I will perish in detention.
My dead body will be flown to Colombo.
Withered and shriveled, it will be dressed in a black suit, placed in a coffin.
It will arrive at the Katunayake airport where my folks will be waiting, crying.
I can't and won't visualize my daughter.
'Ring of Gyges',
I need to hold you.
No one believes my Australian story and that passport as 'mine'.
I will say it is not mine, nobody would know that I lied.
I will be invisible and unknown,
I will release you once I am trusted.
'Why should I trust you?' said the stocky Manila cop,
I knew, that he knew that I wasn't lying,
But, that was ten years ago,
When he interrogated me for an hour,
Inside that tiny dwelling of those kids, whom I met on the street,
When I walked miles away from the Ninoi Akino airport, into the pitch darkness,
Carrying my sack in which I threw a few clothes six days before,
When I took off,
After hearing that they've killed my master.
There were four days hiding in outskirts of Colombo,
And two days of travelling on air and ports before reaching Manila.
Yet, and months later, at the UN high commission for refugees in Manila,
I did not lie,
To the woman who spent hours grilling me,
Before she embossed that stamp on my paper.
Hold on!
When did 'I' stop lying?
I lied so much to the police,
On the streets of Colombo or in their recurring search operations.
How come I am no longer a liar?
I kept on lying even after settling in Australia.
That's when my brother said, living around a truth is easier.
Not ethical, but easier, perhaps my turning-point.
Here am I, back at my old game.
I am no longer a decent citizen.
No one knows me anymore.
A woman I met in the outback was drinking to death in depression.
She said, 'cos I'm so poor, cos I got nothing'.
Hearing that story, folks back-home told me 'she's lying.
How come she's drinking if she's got nothing?'
Another woman I heard of, was on a suicide mission to blast the city.
She claimed the city folks massacred her people and plundered.
'We never massacred or plundered, blame us not, but the politicos,'
Claimed the city folks 'What lies?'
Isn't one person's truth, another person's lie?
"Now, enough of that."
Time's up for me.
Five minutes and myriads of thoughts, all gone.
Should I lie,
Or should I not?
Written, Performed by Nishanathe Dahanayake
(The events described are actual personal experiences.)